New SEM and EBSD by COMTES FHT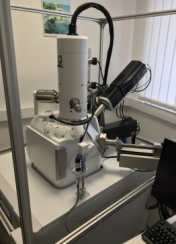 Last week, a new JEOL IT 500 HR scanning electron microscope was installed at the materiala analysis department. It features a new high-speed EBSD camera and a very sensitive EDS detector from EDAX. The microscope has also a STEM detector that allows an observation of the microstructure of metallic foils in transmission mode.
The hight-speed EBSD camera was co-financed by the European Union, by the European Regional Development Fund within the project 3DCOVER.


Published on: Oct 1, 2018 11:29 AM