Forming
We develop processes for bulk forming and sheet forming of metallic materials.
We design

complex thermomechanical treatment procedures.

We possess experience

with forging, extrusion, hot and cold rolling, production of pressed sheet parts and the hydroforming technique.

We study

unconventional processes, such as the preparation of materials with ultrafine structures by means of severe plastic deformation techniques, rolling of sheet with variable thickness, and others.

We carry out

rolling of steels, aluminium alloys, nickel superalloys, titanium and other non-traditional materials.

We deliver

new design, process and material solutions for forming tools to extend their life and improve their reliability in service.

We supply prototype formed products.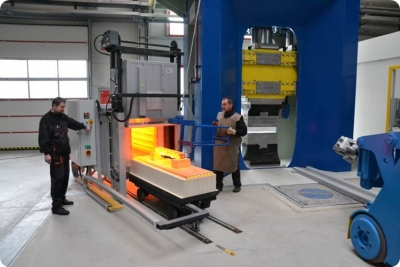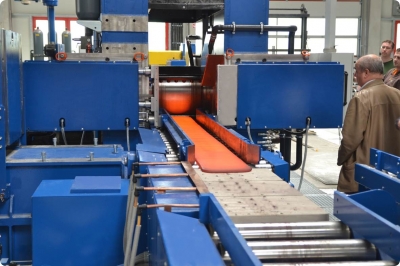 Hydraulic forging press
Maximum forging force: 2500  tf

Closed-die and open-die forging

Simulations of the operation of various types of presses and hammers

Adapted for "Software-Controlled Forging"
Rolling mill
Reversing rolling

Hot rolling of strip and sheet (two-high roll arrangement) and cold rolling of strip and sheet (four-high roll arrangement)

Thermomechanical rolling

Straightening and grinding of rolled products
Other equipment
Continuous extrusion in a ConformTM S315i machine and grain refinement using the ECAP-Conform method

Grain refinement using the ECAP technique (Equal Channel Angular Pressing)

Universal press for forming small specimens

Rapid radial forging machine

Software and computer stations for numerical modelling of forming processes